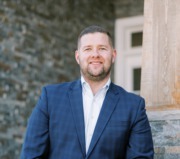 Hello! My name is Danny Chavez. I have been an active member of this community for 19 years, and I am so excited to be turning that community focus towards Real Estate!
With a passion for service in the Hampton Roads area, I am ready to help with your home buying and selling needs. Whether you are a first time homebuyers or a real estate mogul, I am here to support your unique individual style, needs, and budget! As a proud member of the Envision VA Home Team powered by AMW Real Estate; I carry the values of hard work, integrity, and outstanding client service into every exchange. As a veteran and former fire fighter, I have the skills to be successful for you in this dynamic and competitive environment.
I found home with my wife (Nicole), two sons (Daniel and Maddox), and three dogs (Lincoln, Harrison, and Kennedy) in Toano! When I am not making homeownership dreams come true for my clients, you can find me throwing cornhole bags, coaching for the New Kent Falcon's football team, and spending time with loved ones!